Environmental class investigates fuel costs, CO2 impact from BHS cars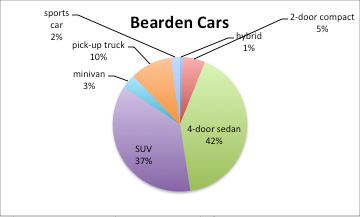 Bearden students all know that cars are expensive. They all know they can have negative impacts on the environment.
But do they know just how significant those costs are and how much they affect the environment?
A class of 18 students decided this week to find out how much Bearden students and faculty spend on gas, and how their vehicles affect the environment.
As part of Mrs. Tonya Henke's AP environmental science class, the students went around Bearden's parking lots, counting different types of cars (sedans, SUVs, etc.). They took this information and calculated the collective annual fuel cost, barrels of oil used, emissions, and smog ratings of all of the cars on Bearden's campus.
It seems like a complicated process, but all they had to do was type in some numbers to a government website and do a couple of calculations to find estimations for how Bearden's cars are affecting the environment and the wallets of students and faculty.
So here's what they came up with. There are a little more than 700 cars on campus. Almost 300 of them are 4-door sedans and around 260 are SUVs. The rest are 2-door compacts, pick-up trucks, minivans, sports cars, and hybrids.
On average, $1.5 million is spent on fuel each year for these cars.
"Doing this assignment before, I expected the high numbers, but every time I see it, it does surprise me exactly how many cars we have on campus and how much we spend on gas," Mrs. Henke said. "We spend more on gas than education in the building."
The high price of gas may not be completely obvious until put into perspective like this.
"Going into the project, I knew that the value would be high," junior Juhi Patel said. "But I wasn't expecting something that high, so I was surprised."
These cars require over 10,000 barrels of oil to run each year. One barrel of oil contains 42 gallons and 19 of these gallons will be used for motor gasoline. Overall, students and faculty use more than 420,000 gallons of oil and 190,000 gallons of gasoline each year.
"If you can just imagine how much 10,000 barrels of oil looks like and put it by the football field or something, it's huge," junior Sebastian Soldner said. "All of that is going into every car each year, and we're here for four years. Just multiply that by four. It's crazy."
Next, the students measured tailpipe emissions and upstream greenhouse gas emissions from the cars. The tailpipe estimates include CO2 emitted from the vehicles' tailpipes and is measured in tons. Bearden students and faculty emit more than 100,000 tons of CO2 each year.
Upstream greenhouse gas emissions include methane and nitrous oxide emitted. Almost 25,000 tons of these toxic chemicals are emitted from student and faculty cars each year.
"Just the cars in the school parking lots are doing so much damage," Patel said. "If you think about how many cars there are in the world, those numbers are much higher."
The smog ratings represent the amount of health-damaging/smog-forming pollutants emitted by vehicles. This is scored from 1 (worst) to 10 (best). On Bearden's campus, the smog ratings range from 3.5 to 7 with an average of 5.
All of these numbers have been improving from just last semester.
"Something that did surprise me, in a good way, is this is the first time we've ever had more than one hybrid on campus and it seems like the number of minivans has gone down," Mrs. Henke said.
Last semester, one hybrid was on campus compared to about 40 minivans. Now there are five hybrids and 25 minivans. The numbers for the other types of cars have largely stayed the same.
"Things are improving because technology is improving," Mrs. Henke said, "and more people are choosing to drive more fuel efficient, less tailpipe emitting cars."