Review: Surprising 'Guardians' will appeal to comic book fans, skeptics alike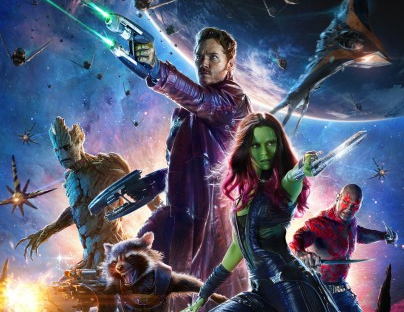 I have to admit, I went in to Guardians of the Galaxy with absolutely no expectation that I would enjoy it. First of all, I'm not a superhero movie kind of person. Secondly, any movie with animated talking animals makes me cringe.
However, James Gunn's adaptation of the Marvel comic had me laughing, crying, and dancing for two hours.
Guardians follows Peter Quill (Chris Pratt) – or "Star lord" as he calls himself – through the galaxy as he steals a mysterious orb from Ronan, the evil villain trying to take over the world. Quill becomes the object of a relentless bounty hunt, being chased down by Rocket, the thrill-seeking raccoon; Groot, the tree-humanoid whose vocabulary is limited to "I am Groot"; Gamora, the mysterious green lady; and Drax the Destroyer, who is a bit Vulcan-esque with his emotionless, logical persona. These five foes expectedly become friends as they embark on their quest to save the world from Ronan.
Unlike most superhero movies that are nothing but shoot-em-ups with some sappy and predictable side stories, Guardians is always unpredictable with heart-wrenching background stories and many laughs along the way.
Pratt – who is a little easier on the eyes than in Parks and Recreation – pulls off the funny, tormented guy like no other alongside the elegantly tough and beautifully green Zoe Saldana (Avatar, Star Trek).
Bradley Cooper (American Hustle, The Hangover) and Vin Diesel (Fast & Furious) make the perfect Rocket and Groot. Groot's character is by far my favorite. He adds beauty and charm to the movie when he lets off a swarm of fireflies and wraps his branches around his friends to protect them. Rocket, the gun-happy, joke-making animal is the perfect partner in crime to his gentle counterpart.
It is impossible to review this movie without praising its soundtrack. 1970s pop music adds fun and life to the film without being cheesy or annoying. Songs like Norman Greenbaum's "Spirit in the Sky", The Runaways' "Cherry Bomb", Rupert Holmes's "Escape (The Pina Colada Song)", and Marvin Gaye/Tammi Terrell's "Ain't No Mountain High Enough" to name a few, put a nostalgic, retro spin on a futuristic movie.
The one negative thing I have to say is Ronan's character was not up to par. Ronan, played by Lee Pace, is supposed to be an awful super-villain who kills women and children for fun. But in reality, he is just a blue man with a deep voice and fancy face paint. He didn't scare me, he didn't interest me, he just bored me. Even in the battle scenes in which he shows off his super-strength, he just kinda stands there.
Overall, I thoroughly enjoyed Guardians of the Galaxy and would recommend it for men and women, young and old alike. Everyone can find something to like about this movie.
Rating: 8/10