BHS Latin club debuts at NJCL with banner performance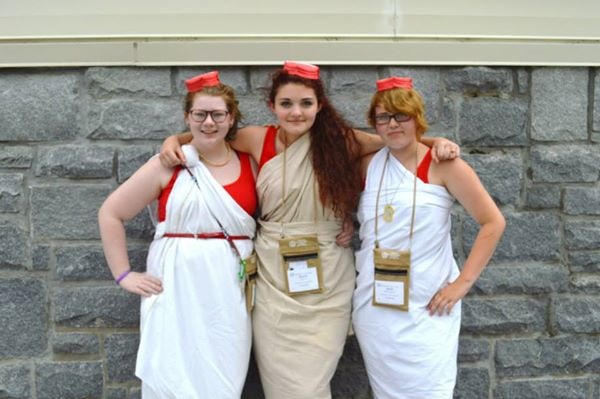 Aimee LaFon, Katy Burton, and Hope Buchanan of Bearden High School's Latin Club excelled at the National Junior Classical League convention at Emory University in Atlanta, Ga. this summer.
"NJCL is a place where Latin nerds from across the country come together to celebrate their love for the Latin language and other classical studies through a variety of friendly contests and events," Buchanan said.
Tennessee, represented by LaFon, Burton, and Buchanan, took first place in spirit at NJCL.
Spirit is "basically a high energy crowd of Latin kids doing cheers for their state, similar to what you might see at a football game," LaFon said.
"I am ecstatic," said Mr. Sandy Hughes, Bearden's Latin teacher and club sponsor. "I've been to NJCL; we've never had kids go to NJCL, and to come back with that many top ten finishes, I am so proud."
LaFon placed in the top 10 in 10 events in various categories including spoken Latin, academic testing, and art. Burton participated in academics, graphic arts, and creative arts, with Buchanan competing in sports, testing, and creative arts.
Burton chose to attend NJCL because not attending would be "a great loss . . . as Classics students," especially considering the proximity of the event.
"Choosing to go to convention was a big deal for me, as few people from Bearden have ever had the opportunity to go, and I had never in my wildest dreams thought that I would ever be able to attend," LaFon said.
All the girls seem positive that they will be able to attend National Junior Classical League this school year in San Antonio, along with other members from the Latin club.
The Latin club is making preparations so that they may be able to attend the next NJCL.
"We're going to do a fundraiser in spring: we try to put a Latin dinner theatre together," Mr. Hughes said. "As far as money that's what we're going to do.
"Otherwise we're going to do what we always do, but do it better."
The club will also be preparing for new recruits.
"We're working really hard to get more members this year," Buchanan said. "A lot of work is going into expanding and improving the Bearden High School Latin club."
Burton hopes that the club's success at NJCL will help increase the attendance for this school year. She also says that many games and activities from the convention can be used as learning mechanisms for the rest of the clubs here at Bearden.