Review: 'V' sees Maroon 5 return to their roots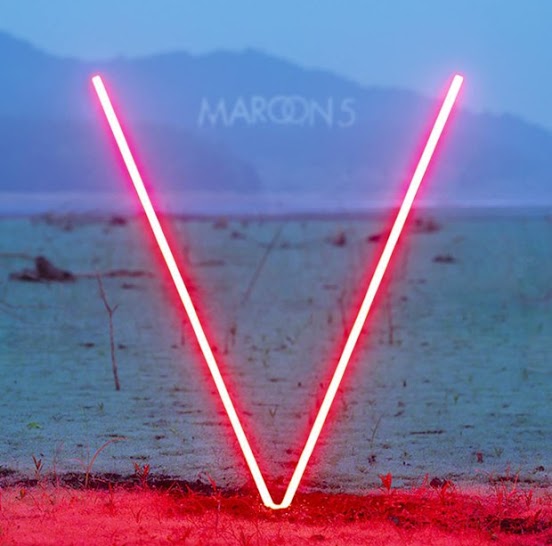 After two years and 74 days of patiently waiting, the midnight of Sept. 2 finally came. My alarm went off at 11:55 and I spent the last five minutes before it was finally here staring at a picture of Adam Levine and crying.
Ever since June 20, 2012, I have been eagerly waiting for Maroon 5's next album V to come out, and that night at 12:00 a.m. exactly, my dream came true. I could once again hear the beautiful voice of Adam Levine, the melodious chords of guitarist James Valentine, the harmonious chords of bassist Mickey Madden, the steady beat of drummer Matt Flynn, and the musical performance of keyboardists PJ Morton and Jesse Carmichael.
This highly anticipated album, including hit singles "Maps", "It Was Always You", and most recently "Animals", is back on the same level of previous hit albums Hands All Over and Songs About Jane, which created the band's colossal fan base.
V's predecessor, Overexposed, is filled with pop-y, fluff songs that were not true to the band's original work and disappointed many of their fans, including myself. The pop-filled songs were proof of the band's conformity to pop culture instead of staying true to their music, which made me anxious about the fate of V.
They did not disappoint.
From ballads like "Lost Stars" (from the movie Begin Again) and "My Heart Is Open" (featuring Gwen Stefani) to pop-rock hits like "Shoot Love", "Sugar", and "Coming Back For You", V is simply better than Overexposed.
The band centered on making this album representative of their career by pulling inspiration from songs like "She Will Be Loved" (Songs About Jane), "Payphone" (Overexposed), and "Wake Up Call" (It Won't Be Soon Before Long) to make this album a giant melting pot of all of their best works.
The best song on V is definitely "Unkiss Me," an upbeat number with really catchy lyrics that is like chart-topper "Misery" from Hands All Over. Levine's signature, unique voice, the lyrics, and beat make this song so successful.
"Leaving California" takes the band back to their Songs About Jane period where almost every song was a hit.
However, not all the songs on V are successes.
"In Your Pocket" is a song similar to "The Man Who Never Lied" (Overexposed) in tempo and meaningless, pop-filled lyrics.
Although "New Love" and "Feelings" are slightly better, they're still very much like the content of Overexposed, but their irresistibly catchy choruses make up for all the cliché pop beats and rhythms.
Ryan Tedder, front man of One Republic, collaborated with Maroon 5 on Overexposed and once again on V. Tedder's effort on Overexposed was not successful, but the second time around, the collaboration definitely resulted in a better product.
Hopefully, Maroon 5 has learned their lesson that conformity is not always successful.
Overall, V is a success and was definitely worth the long wait. I can't wait to see what Maroon 5 does next, but hopefully, I won't have to wait two more years for the next album.