DeLong, seniors lead Bearden to 34-14 win over William Blount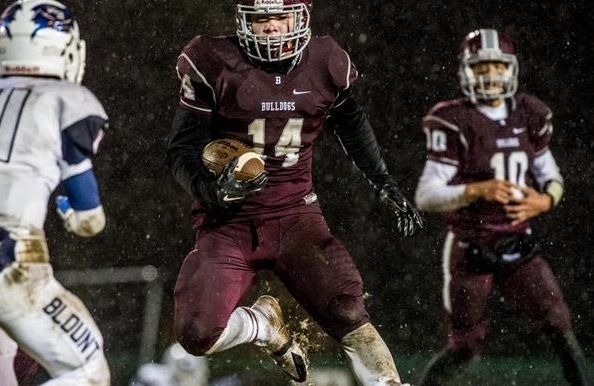 Bearden's senior football players were not going to end their careers with a loss.
Griffin DeLong headlined a night of memorable performances from the senior class, and Bearden overcame an early two-touchdown deficit to capture its first win of the season against William Blount on Halloween night, 34-14.
In DeLong's final game as a Bulldog, he finished with 19 total tackles, one interception, and 77 rushing yards on eight carries. One of those carries was a 41-yard run to set up Bearden's first score of the night; another was a 6-yard touchdown run that gave the Bulldogs their first lead.
"To go out on a win is unbelievable," DeLong said. "I couldn't be prouder of my other teammates.
"They played unbelievable, we showed class, and I cannot wait to come watch these guys next year."
After Bearden (1-9, 1-6 District 4-AAA) fell behind 14-0 late in the first quarter, the mood on the Bulldogs' sideline shifted, and the Bearden seniors took over.
"We had a few seniors that just said no, this is not going to happen," Bearden Coach Morgan Shinlever said. "And they just took the bull by the horns, and straightened it out."
The turning point in the game came early in the second quarter, when cornerback Bryson Ford intercepted Austin Myrick's pass in the end zone and returned it to the Bearden 38-yard line.
DeLong – who has been saved mostly for the defensive side of the ball all year – then appeared in the backfield, and the Governors (3-7, 2-5) never looked comfortable handling him offensively. After his long run, Chase Berry punched it in from four yards out with 8:02 remaining in the second quarter.
From then on, it was all Bulldogs.
Another key senior contributor, tight end Matthew Marlow finished the game with 97 yards receiving, including a highlight-reel 38-yard touchdown catch to tie the game at 14-14.
Along with his plays on the receiving end, Marlow also helped the Bulldogs in the punting game.
His 51-yard punt in the third quarter set up a fumble recovery on the next play by senior defensive lineman Kameron Stewart.
DeLong scored on the next play, and sophomore Ty Warren put the game away in the fourth quarter with two touchdown runs.
"(This season) has had its ups and downs," DeLong said. "Our goal for this year, was to build a foundation for the future, and we went into this week saying that this is going to be our last week of practice, and it's going to be our best week of practice for us seniors.
"And we're going to give everything we've got."