Young wrestling team wins district, falls short of state qualifying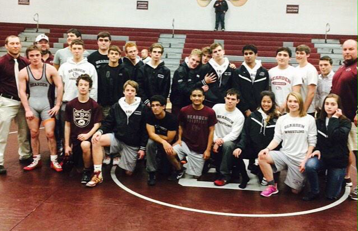 The Bearden wrestling program has been one of the fastest improving programs in the school over the past few years, and despite having a young team this year, the Bulldogs' success continued on this season.
Until a few years ago, Bearden had never won a district title. After this season, they have now won three in a row, and look to keep that trend rolling for years to come.
"It was a huge accomplishment [to win district again] and see the difference between the beginning of the season," Coach Donnie Floyd said. "Seeing the growth of the newer guys was huge."
Bearden claimed their third straight district title with a 40-30 victory over Hardin Valley on Jan. 16. Key individuals that really pushed the team to a victory included standout performances from freshman Max Grayson, junior Wes Goltry, and junior Jacob Gerken.
"The team [this year] has fallen into place weight wise," Gerken said. "Coach Floyd looked at match-ups to give us the best opportunities to win."
After the win over Hardin Valley, Bearden then headed onto a potential qualifying match to reach state against Gibbs.
The bracket had four teams with Bearden going against Gibbs and Halls going against Hardin Valley. The winners of the first two matches would automatically qualify for state.
Bearden fell short of state when they lost to Gibbs by a score of 42-33 on Thursday.
Though Bearden fell short of making it to state as a team, individual wrestlers still have an opportunity. On Feb. 7, individual wrestlers will get a shot to make the state competition.
The top four in each weight classification advance onto state.
As a team, many new and also old aspects came together. Adding new staff members and a different conditioning outlook set the pace for the Bulldogs.
"One of the biggest things this year was bringing in Coach [Hunter] Fendley to improve our strength as a team," Coach Floyd said. "Having our kids in the weight room every day is important.
"Even though our technique was good, we were losing to some teams because of strength."
Added Gerken: "You could see first-year wrestlers get better and progress. At districts, we had some kids who only won a few matches [all year] and they won all of their matches in the dual-match.
"It was a big confidence boost."
Even though Bearden is a young team, they do lose two senior captains, Zachary Patterson and David Garabrandt. Their legacy and importance will be carried on into next season.
"This senior class has really carried on what the team did last year," Coach Floyd said. "They showed the next generation what the goals are from here on out."
We all know what these seniors have given Bearden, but the best part is knowing exactly what Bearden has given them.
"The program has given me a lot," Patterson said. "My amazing coaches have taught me dedication, discipline, and taught me a ton of life lessons."