Senior Luepke leaves children 'Frozen' with delight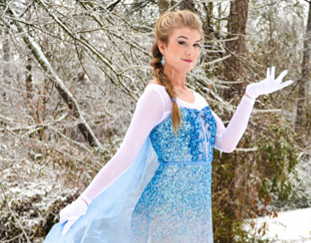 With spring weather right around the corner, it seems that Elsa's reign of terror consisting of snow and ice storms is finally drawing to a close. Although the winter weather is ending, Elsa – star of Disney's Frozen – is far from gone.
In fact, you can find her walking down the hallway right here at Bearden.
Senior Merrielle Luepke has started her own business where she dresses up as Elsa and performs at children's parties.
She got the idea last year when she received several comments about her prom dress looking like Elsa's dress. When her mother, who is a teacher at West Hills Baptist Preschool, heard about it, she suggested that Luepke dress up like Elsa and surprise the preschool kids one day.
"Seeing the kids' reactions was so rewarding because they truly believed I was a Disney princess," Luepke said. "While I was performing (lip syncing) the kids were singing along and chanting, 'Elsa!'
"After I performed, we had a meet and greet where the kids hugged me and asked me questions about my life like, 'Where's Anna?' 'What's your favorite food?' and 'How did you get here?'"
To answer these questions, Luepke channels her "inner Elsa." She draws some of her inspiration from her history of growing up loving Disney princesses, but the majority comes from firsthand experiences.
"I've been to Disney World several times, so I kind of modeled my character off of the princesses there," Luepke said.
Following her initial performance at the preschool, Luepke received several offers from mothers asking her to perform at their children's parties. Since her first performance, she has performed at six different parties so far.
In the future, Luepke would love to be a princess at Disney World. She has even looked into the Disney internship program and is considering taking part in it a few years down the road.
In the meantime, Luepke has no intent to "Let It Go" as she has created a Facebook page ("Elsa – Knoxville Disney Princess") for business inquiries and will continue to play Elsa for the children of Knoxville even "In Summer" when the cold weather is long gone.