Bark staff football picks: Oct. 8-10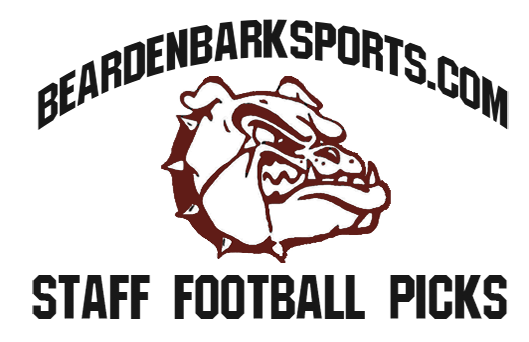 After Wyeth and I went 5-3 respectively last week in our first ever picks column, we now focus our attention on an even slate of games with four high school games and four college matchups. Luckily, I influenced one of Wyeth's picks last week, selling him on Hardin Valley and keeping us tied after one week. This week we agree on all eight games, which is surprising, because we practically never agree on anything.   
Football Picks Oct. 8-10
William Blount at Science Hill
TH: Science Hill comes off an impressive road victory at Hardin Valley where they gave up only seven points to a versatile HVA backfield.
William Blount has struggled to slow down opposing offenses, allowing just under 35 points per game. Science Hill will take advantage of this and coast to an easy victory over the Governors.
Science Hill 41, William Blount 20
WW: Science Hill continued what has been an impressive inaugural season in Region 1-6A with a road win over Hardin Valley, while William Blount was blown out by Jefferson County.
Science Hill's offense (averaging 29 points per game) will have a big day against William Blount's defense (giving up 37 points per game) to get the W.
Science Hill 42, William Blount 23
Hardin Valley at Jefferson County
TH: Two of HVA's three losses this season have come by less than a field goal. Last week, they suffered their third defeat of the season by 13 points, though the game was much closer because Hardin Valley had three drives stall inside the redzone.
Jefferson County blew out William Blount last week; however, the Hawks bounce back and get a quality road win.
Hardin Valley 31, Jefferson County 21
WW: Their 3-3 record may not show it, but Hardin Valley is a good football team, with two of those losses being close ones, and the other coming by 13 points to a talented Science Hill team.
Hardin Valley will rebound from that loss and get back into contention for hosting a playoff game.
Hardin Valley 34, Jefferson County 20
Bradley Central at Dobyns-Bennett
TH: Dobyns-Bennett had a rough time last week against Maryville, getting down 42-0 only six minutes into the second quarter. While that seems like a huge deal, we have to keep in mind that Maryville has not lost since 2012.
Dobyns-Bennett will bounce back this week at home.
Dobyns-Bennett 31, Bradley Central 23
WW: Dobyns-Bennett was embarrassed last week by Maryville, while Bradley Central suffered a heartbreaker where Bearden won on nearly the last play of the game.
Both teams will come out ready to get back on track, but Dobyns-Bennett gets the close win.
Dobyns-Bennett 28, Bradley-Central 27
West at Farragut
TH: West and Farragut both have some of the best defenses in the area with the Rebels giving up just 14 points per game and the Admirals giving up less than 8.
Bearden scored only 9 points against the Admirals earlier this season, and I believe the Admirals will also shut down West in a low-scoring affair.
Farragut 23, West 14
WW: Bearden isn't playing both West and Farragut this season for the first time since at least 2000 (the oldest Bearden schedule that I could find was 2001), but Bearden football fans will certainly be paying attention to this game.
In the matchup of Bearden's two biggest rivals, Farragut prevails to preserve their undefeated season.
Farragut 31, West 27
No. 13 Northwestern at No. 18 Michigan (3:30, Big 10 Network)
TH: Michigan's defense has been a force to be reckoned with the last few weeks, shutting out their previous two opponents.
Michigan's offense has also improved, outscoring opponents 122-14 in their last four contests. With their only loss coming to Utah, arguably the most impressive team in college football this season, the Wolverines have put together a strong start to the Harbaugh era.
Northwestern has had an impressive start as well, but the Wolverines may be the hottest team in college football and will win decisively in Ann Arbor.
Michigan 23, Northwestern 10
WW: This game definitely didn't seem like it would be a top 20 matchup in the preseason, but it actually has turned out to be a big game in determining the Big Ten division winners.
Northwestern has had a good run so far this season, but it will come to an end in the Big House on Saturday, as the Big Ten East puts their third team into the top 15 in the rankings.
Michigan 31, Northwestern 20
Arkansas at No. 8 Alabama (7 p.m., ESPN)
TH: Alabama silenced anybody who doubted them after their loss to Ole Miss earlier this season by embarrassing Georgia 38-10 in Athens last week.
Pound and ground is the name of the game for both sides; however, Alabama has a stronger defense and home field advantage. Alabama will coast to an easy victory and gather more steam into their showdown against LSU on Nov. 7.
Alabama 31, Arkansas 17
WW: Arkansas's season looked to be completely lost about midway through the first quarter last week against Tennessee, but the Hogs fought back and Bret Bielema got his first SEC road win as the Razorbacks' head coach.
But this week's road trip will be a big step up for the Hogs.
Alabama is coming on of a huge statement win over Georgia last week, and will keep things rolling this week.
Alabama 31, Arkansas 14
No. 5 Utah at No. 23 California (10 p.m., ESPN)
TH: If before the season, someone told me by week six that Oregon would be unranked and that Utah would be in the Top 5, I would not only laugh, but I would think you were crazy.
Utah demolished Oregon two weeks ago, and their home victory over Michigan is only looking more impressive.
California is undefeated so far, which is a vast improvement from previous seasons. In contrast, they have not played many strong teams and will have a rough time against the Utes on Saturday.
Utah 35, California 17
WW: After their big win over Oregon two weeks ago, Utah has gotten the respect they deserve in the media, being viewed as a serious playoff contender.
The California football program has also gotten back on track after going 9-27 over the previous three seasons.
But the Utes will be the team to emerge in the Pac-12 on Saturday night with a big road win.
Utah 45, California 41
No. 19 Georgia at Tennessee (3:30 p.m., CBS)
TH: Tennessee once again failed to close out a game Saturday after blowing a 14-point lead against Arkansas.
Georgia did not fare so well Saturday either, getting blown out by Alabama at home.
The Bulldogs will bounce back in large part because of Nick Chubb, who will record his 14th straight game with over 100 yards on the ground and win a close one in Knoxville.
Georgia 27, Tennessee 21
WW: Tennessee solidified itself as the biggest disappointment of the 2015 college football season with a loss to Arkansas last week, and will get no time to recover, now facing a Georgia team, who is also coming off a disappointing loss.
The Bulldogs will be further motivated by the fact that a win here keeps them in the hunt to be in Atlanta for the SEC Championship game.
Despite being the underdog, Tennessee actually does match up with the Bulldogs well, and has lost by just three points to Georgia in each of the past two seasons.
Another sold out crowd at Neyland Stadium and new Nike Smokey Grey uniforms will propel Tennessee to another fast start, but for the third time in as many weeks and for the fourth time this season, the Vols will fail to maintain that lead in the second half.
Georgia 34, Tennessee 27