Bark staff football picks: Oct. 22-24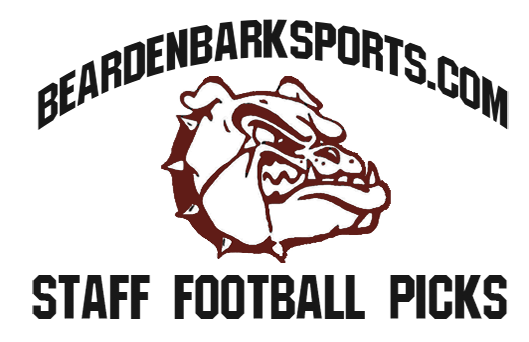 After taking a week off last week, Wyeth and I now focus our attention on Region 1-6A and SEC play. We are pretty consistent on our high school matchups; however, we have some differences in our college matchups. As the high school season winds down, we want to congratulate the Bearden football team for their season so far and especially take time to thank all of our senior football players as they prepare for their final regular season home game Friday night.
Jefferson County at Dobyns-Bennett
TH: Bearden went on the road last week and knocked off Dobyns-Bennett 21-9; however, I do not see Jefferson County having the same success.
Dobyns-Bennett will end a three-game slide, while Jefferson County will slide to their third straight loss.  
Dobyns-Bennett 27, Jefferson County 20
WW: Since knocking off Hardin Valley on Sept. 18, Dobyns-Bennett has lost three in a row, including a 21-9 home loss to Bearden last week.
But Jefferson County does not have the talent of Maryville, Bradley Central, or Bearden – the teams that Dobyns-Bennett has lost to in their current losing streak.
Dobyns-Bennett 31, Jefferson County 13
William Blount at Hardin Valley
TH: William Blount has not won a game since Sept. 11, and they have been outscored 179-68 in that time period. Hardin Valley has also struggled of late, losing two of their last three while averaging just 13 points per game in that stretch.
Hardin Valley, however, will bounce back after losing to Bradley Central last week and get a decisive win at home.
Hardin Valley 30, William Blount 13
WW: William Blount has been in a slump ever since a win over Heritage in early September, and the gauntlet of Region 1-6A continues this week for the Governors with a trip to Hardin Valley.
Hardin Valley's play hasn't been that impressive this season, as they hold a 4-4 record, but they are good enough to beat William Blount.
Hardin Valley 34, William Blount 20
Bradley Central at Maryville
TH: Bradley Central has had an excellent season so far, starting 6-2 overall and winning two in a row after their tough 28-27 loss to Bearden.
The bad news for the Bears though is that Maryville is just on a different level compared to all other Region 1-6A competitors. Maryville has outscored opponents 345-75 this season, including shutting out two of its past three opponents.
The Rebels roll in this one and keep their eyes on a possible third straight state championship.
Maryville 52, Bradley Central 13
WW: Bradley Central has had a nice season, but Maryville specializes in ruining nice seasons.
Bradley Central is a good team that could possibly win a couple of games in the playoffs, but Maryville is just simply better than everyone in Region 1-6A.
Maryville 56, Bradley Central 17

Auburn at Arkansas (12 p.m., SEC Network)
TH: Arkansas and Auburn have similar stat lines, yet their records show differently with the Razorbacks sitting at 2-4 and the Tigers sitting at 4-2.
Arkansas had a rough start to the season, including a stretch where they lost at home to Toledo and Texas Tech. In contrast, they have put together a promising past two games where they knocked off Tennessee on the road and then put up a strong showing at Alabama.
Auburn has struggled when their offense has had to go up against a capable defense, averaging just 19 points against SEC opponents. This combined with Arkansas having home field advantage will guide the Razorbacks to a close victory.
Arkansas 27, Auburn 24
WW: Auburn and Arkansas both got off to extremely disappointing starts this season, but Auburn started to turn things around with a win at Kentucky on Thursday.
Arkansas was off last week, giving them time to prepare for this game, which will be much needed to salvage the season.
Auburn's defense has been playing well enough to win games under new defensive coordinator Will Muschamp, and for the second straight week, the offense will help them out.
Auburn 31, Arkansas 21

No. 15 Texas A&M at No. 24 Ole Miss (7, ESPN)
TH: Since Ole Miss pulled off the huge upset in Tuscaloosa on Sept. 19, the Rebels have coasted to a mediocre 2-2 record.
Texas A&M also was exposed last weekend after they were defeated by Alabama, where the Tide rolled to a 41-23 victory. A large part of their tough time against Alabama came from their inability to hold onto the ball, turning the ball over four times.
Ole Miss, however, has been the more disappointing team of late, and it will show on Saturday when Texas A&M bounces back and takes down the Rebels on the road.
Texas A&M 34, Ole Miss 27
WW: This is the only matchup this week between ranked teams, but it doesn't seem like either team should be ranked.
Texas A&M was disappointing in their loss to Alabama last week, but Ole Miss was even worse in a loss to Memphis.
The Rebels' defense was embarrassed by Memphis all day, giving up 491 yards in the 44-34 loss.
Texas A&M still has a lot to figure out, but they get the win on Saturday, giving Ole Miss a lot to figure out moving forward.
Texas A&M 34, Ole Miss 28
Tennessee at No. 8 Alabama (3:30, CBS)
TH: Alabama has been on a roll lately, only allowing 47 points in their past four games and knocking off two top 10 teams.
Tennessee finally broke through in their last game and defeated Georgia for the first time since 2009. The Volunteers started the game down 24-3 and then ended up coming back and knocking off the Bulldogs 38-31.
Tennessee has some momentum, but Alabama has even more. Derrick Henry has averaged almost six yards per carry this season, and he will be too much to handle on Saturday.
Alabama 31, Tennessee 21
WW: Tennessee got a much needed, confidence-boosting win two weeks ago against Georgia, but the 97th edition of the Third Saturday in October will be a much tougher task.
Alabama steamrolled Texas A&M 41-23 last week in a game that was not as close as the final score indicated.
Tennessee's struggles in this game will start with Alabama running back Derrick Henry, who absolutely destroyed Texas A&M's defense last week, rushing for 236 yards and two touchdowns.
If the Vols can somehow contain Henry early, they will have a chance to make some noise early, given Alabama offensive coordinator Lane Kiffin's reputation for going away from the run if it doesn't have early success.
Tennessee may not be able to contain Henry, but if the Tide do indeed go away from the run game, Alabama quarterback Jake Coker will not be an issue for the Tennessee defense.
All that being said, I think Tennessee is able to hang around with Alabama, but a big day from Henry propels the Tide to 7-1 going into a huge game against LSU.
Alabama 35, Tennessee 24