Review: Adele's '25' well deserving of saying 'Hello' to No. 1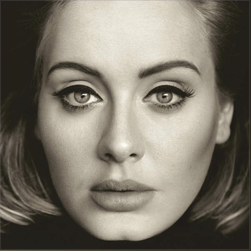 After a four year hiatus, she's back again.
Adele has just released her newest album 25, and it is well worth the four long, long years of waiting for her soulful voice and perfect winged eyeliner to grace an album cover.
With her instant hit "Hello" (the first single off the album), Adele is already blowing up the charts, and many of her latest songs are sure to join in on the success. Songs like "Send My Love (To Your New Lover)", "Water Under the Bridge", and "Remedy" are sure to be successful because of their catchy, relatable lyrics, unique rhythms, and intense musicality.
All of the songs on the album have a backstory that makes them even better than they already are. Adele sings about her last night or final days with a lover who is leaving her like in "All I Ask", and one she is leaving like in "Love in the Dark". Either way, Adele's passionate voice inflicts all of her emotions on the listener and makes them feel what she feels.
"Million Years Ago" shows how Adele has changed since her first album 19 debuted, and she became an international star. She reminisces about her simpler life that seems so distant even though it was only six years ago.
With the song "River Lea", Adele also shows how she has been shaped by her years in and out of the spotlight. The River Lea, which flows close to where she grew up in north London, is a representation of her life, and she blames it for her romantic failures. With its haunting tone and repetitive chorus, it's definitely the most unique track on 25.
The final and definitely the sweetest backstory on Adele's album is "Sweetest Devotion" which is about finding someone she would give everything to. That someone is her son Angelo and with his sweet little boy voice at the beginning and end of the song, he has melted hearts all across the country and globe.
While her songs are meaningful and basically perfect, this album is typically "Adele" meaning it is about heartbreak, sadness, and moving on. Compared to 19 and 21, songs from 25 would fit into any of the other two albums easily. Nothing is wrong with that kind of consistency, but if she continues being consistent as she releases more and more albums, the songs will become cliché.
Overall, Adele has released yet another successful album, and she will continue to grow as an artist, sing soulful songs, title her albums with her age, and adorn her cover with perfect winged eyeliner.
Rating: 9/10