Bark staff football picks: Dec. 5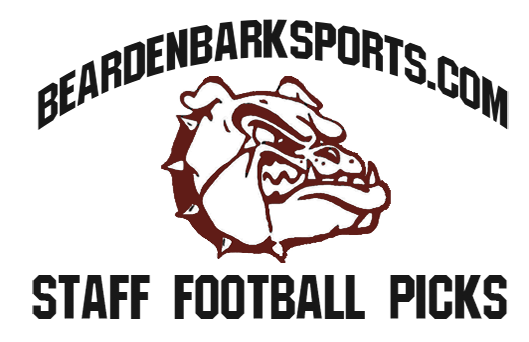 After taking a few weeks off because of Thanksgiving Break, Wyeth and I now bring back our football picks column. We are featuring three state championship games with teams from East Tennessee, including the powerhouse Maryville who hails from Bearden's region. Maryville has been on a run in high school athletics that is hard to fathom, winning 12 state championships since 1998. A win on Saturday would take that number to 13 and also extend their winning streak to 45 straight games. In addition, it is noteworthy that three Power 5 conferences have their conference championships this weekend. After a long season of debate over who should earn the final four spots in the College Football Playoff, it comes down to this weekend to decide who is in and who is out. With six games this week, we wish luck to all teams in this exciting part of the football year.
Season Records: Tyler (28-10); Wyeth (25-13)
Football Picks Dec. 5
Saturday
Maryville vs. Ravenwood (Class 6A State Championship Game)
TH: The Rebels and Raptors met for the 2014 state championship game, where the Rebels won their fourth state title in the past five years.
After jumping out to an unheard of 28-7 lead in the first quarter, Ravenwood looked as though they could knock Maryville from their winning streak of what was then 29 games.
The Rebels will not have to claw back into the game as they did in 2014, and will win yet another state championship.
Maryville 31, Ravenwood 21
WW: Maryville put together yet another perfect regular season in 2015, and will be looking to get their program's third straight state championship.
Ravenwood is a good team, but I'm honestly never going to pick against the Rebels.
Maryville 34, Ravenwood 24
Sevier County vs. Independence (Class 5A State Championship Game)
TH: Where the 6A and 3A state championship games are rematches from this past season, Sevier County's and Indepedence's matchup on Saturday is one of two teams who did not make it past the second round of the playoffs in 2014.
Sevier County has been led by star quarterback and Vanderbilt commit Deuce Wallace, who threw six touchdown passes in a Smoky Bears 42-28 victory in the semi-finals.
Sevier County has been red hot during the playoffs, but Independence will be too much and pull away late in a high scoring affair.
Independence 41, Sevier County 28
WW: Sevier County's Deuce Wallace will be under a microscope this weekend, as he and the Smoky Bears go up against Independence, one of the best teams in Tennessee, regardless of class.
Independence has a lot of players with similarly leveled talent to Wallace's, but the Vanderbilt commitment will put on a show in his last high school game against a defense that has slightly loosened up in the playoffs.
Sevier County 31, Independence 30
Knoxville Catholic vs. Pearl Cohn (Class 4A State Championship Game)
TH: Knoxville Catholic has knocked off a higher seeded team in every playoff game they have played, including a 28-25 win over defending state champion Fulton in the second round.
Pearl Cohn has outscored opponents in the playoffs 128-34, but Knoxville Catholic will ride off of their hot streak in the playoffs and take home their first state title since 2008.
Catholic 24, Pearl Cohn 20
WW: Both Class 4A state finalists currently have identical records of 10-4, each of them winning their past eight games after 2-4 starts.

Knoxville Catholic has been good in that stretch, but Pearl Cohn has been dominant, winning those eight games by an average of 28.8 points.
Pearl Cohn 27, Catholic 24
SEC Championship Game: No. 2 Alabama vs. No. 18 Florida (4 p.m., CBS)
TH: After an early season loss to Ole Miss, Alabama has responded strongly with nine straight wins – bringing them all the way back for a chance at the College Football Playoff.
A win Saturday would lock up Alabama's third SEC Championship in the past four seasons, and there are no signs pointing to an upset from the Gators.
Florida has been awful on offense, scoring only 23 points in their past three games against Power 5 conference opponents.
Alabama will not shut out Florida, but the Tide will definitely roll in a dominant victory Saturday.
Alabama 27, Florida 7
WW: Florida is probably the worst SEC East champion since the SEC created a conference championship game in 1992.
The Gators have limped to a 10-2 record, barely squeaking out wins over bad teams such as Vanderbilt, South Carolina, and Florida Atlantic.
As far as this game, Florida has one of the worst offenses in the country (averaging 13.4 points per game over their past four games) and Alabama has one of the best defenses in the country.
That doesn't bode well for Florida. The Gators will be lucky to even get on the scoreboard on Saturday.
Alabama 31, Florida 3

Big Ten Championship Game: No. 4 Iowa vs. No. 5 Michigan State (8 p.m., FOX)
TH: Michigan State has had a season where the unthinkable has been the reality for the Spartans. Whether it be a last play score on a botched punt against Michigan or a last second field goal at Ohio State, the Spartans have had a touch of the dramatic in 2015.
Iowa has also had their own magic, riding an undefeated record into Indianapolis, but has beaten no teams currently ranked inside the top 15.
Iowa has had an excellent season, but it will be one that does not go to 13 straight victories. The Spartans will come in and take care of the Hawkeyes while also punching a ticket to the College Football Playoff.
Michigan State 31, Iowa 23
WW: Ever since suffering a blowout loss at the hands of Tennessee in the TaxSlayer Bowl in January, Iowa has been perfect, finishing the 2015 regular season 12-0.
Despite the zero in the loss column, Iowa has taken a lot of criticism about their strength of schedule, something that could hurt them this Saturday when they play undoubtedly the best team they have played all season.
Michigan State has definitely had their share of luck in wins over Michigan and Ohio State to get them to the Big Ten championship game, but they are the better team.
The Spartans clinch a College Football Playoff spot with a win, and ruin the Hawkeyes perfect season.
Michigan State 35, Iowa 20
ACC Championship Game: No. 1 Clemson vs. No. 10 North Carolina (8 p.m., ABC)
TH: After North Carolina lost an early season game against South Carolina, it looked that the Tar Heels would again be looking forward to basketball season.
They have now won 11 straight and come into a matchup against Clemson with a high-flying offense led by quarterback Marquise Williams. Williams has 28 total touchdowns on the season and broke the school record for passing yards in a game when he threw for 494 yards in a 66-31 win over Duke.
Clemson has looked shaky in some games against weaker opponents, but when primetime comes rolling along, they have uncharacteristically risen to the occasion. Clemson will again come ready to play and win their third game over a top-16 opponent.
Clemson 34, North Carolina 24
WW: Though they have been the No. 1 team in the country for several weeks now, Clemson has flown a bit under the radar due to the fact that the Tigers' big games came earlier in the season.
North Carolina had also flown under the radar, much more than the Tigers, until the past couple of weeks when people realized the Tar Heels could be a legitimate threat to make the College Football Playoff.
A win over Clemson may not propel North Carolina into the playoff, but it will give them a shot.
On the field, this game has the potential to be a shootout. North Carolina is averaging 41 points per game, while Clemson is averaging 38.
Clemson has the more complete team and has had a better all around season, but college football doesn't stick to the script.
North Carolina will join Michigan State in spoiling perfect seasons on championship Saturday.
North Carolina 34, Clemson 31