Anderson, Clevenger set to take on 'emotional' challenges of lead roles in 'Les Mis'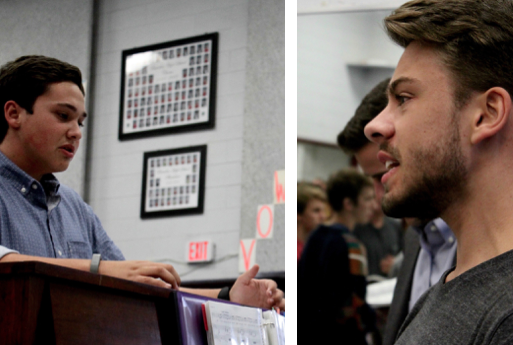 The lights begin to dim; people dressed in ragged clothing enter on stage as "Look Down" plays – the moment Jean Valjean and Inspector Javert come face-to-face for the first time and begin Bearden's 2016 musical, Les Misérables.
Les Mis tells the story of the convicted criminal Valjean and his journey to reshape his life through the French Revolution. Valjean is constantly having to outsmart his nemesis Inspector Javert to keep his happiness and repay his debts.
Junior Thomas Anderson and senior Alex Clevenger will make their musical theater debuts by bringing these two iconic characters to life on Bearden's stage.
After the initial excitement of the Les Mis announcement last spring, one problem arose – Valjean's wide vocal range. Musical theater teacher Mrs. Leann Dickson had a solution.
"[Members of musical theater] knew that Coke Morgan would be playing Jean Valjean," Anderson said. "And then they told us about two and half weeks later, I think, due to the rights, this was a 'high school edition' of the musical so he was not allowed to play him."
Morgan, a West High alum, has trained for years in opera and musical theater in both New York and Los Angeles. He has also been the lead under Mrs. Dickson's direction before.
"Our next step was to see if we had anyone with the vocal chops who could even begin to take [the role of Valjean] on," Mrs. Dickson said. "We set a date to hear the young men in the cast sing, and we realized we did."
The end result was casting Anderson as Valjean and Clevenger as Javert. Although 2016 is Clevenger's first year in musical theater, he is no stranger to the Bearden stage. Clevenger has starred in advanced acting's production of Letters to Sala, and the following year's production of Dirty Work at the Crossroads.
"Javert has to really have a commanding quality to his voice, and Alex had that in both his acting and vocal ability," Mrs. Dickson said.
Both actors have been preparing over the summer with Morgan because of the complex vocal and acting aspects of these roles.
"The biggest challenge is [Valjean and Javert] are very emotional roles for both of us and how we have such a big contrast from the beginning to the end," Anderson said.
In addition to Anderson and Clevenger, juniors Ryan Smith, Christina Ledbetter, Jordan Gatton-Bumpus, Ryan Flores, and seniors McKenzie Stump, Sophia Bobrek, and Mary Ciancio will be performing.
Les Misérables will open on Nov. 10 at 7:30 p.m.