Real Estate's fourth album keeps signature sound, but falls short of past releases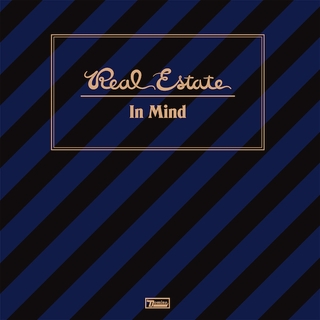 On their fourth full-length LP In Mind, Real Estate return, once again delivering their signature style of mellow, sun-kissed indie pop; however, something seems missing this time around.
The most prominent story looming over Real Estate's name in recent months was the departure of founding member and lead guitarist Matt Mondanile, who left the band to focus on his solo project Ducktails, an obligation that preceded his involvement in Real Estate. Mondanile's languorous and dreamy style of playing helped establish the sound that Real Estate quickly perfected and have grown to always embody.
Mondanile was replaced by Julian Lynch, a fellow Ridgewood, New Jersey native whose amiable musical style is not too dissimilar from Real Estate's. Lynch's solos and grooves elicit a welcomed new sense of electricity, providing distortion and fuzz rarely heard on past Real Estate albums. Unfortunately, without Mondanile's relaxing and languid elegance, many of the tracks on In Mind lack the texture and ambience that made past albums so enthralling.
Another minor yet pervasive issue is the emotional distance of frontman Martin Courtney's lyrics. While Real Estate albums have always been mellow and free-spirited, Courtney's whimsical musings and idealizations of suburban life have always teetered on the brink of melancholy. For some reason, his depictions of idyllic everyday life no longer have that same effect on this album, and the production style of the album seems to force his lyrics to the forefront at times, rather than letting the instrumentation take the listeners focus.
Despite the album's shortcomings, it is grounded by its two solid lead singles "Darling" and "Stained Glass", with the latter being a bright and upbeat tune wherein Courtney's rhythm guitar really shines through. In Mind is filled with just enough subtle reinventions to keep things interesting, such as the beginning of the closing track "Saturday", which opens with a rare display of piano chords.
The highlight "Two Arrows" is a nearly seven-minute jam song that Grateful Dead fans could happily bob their heads along to. It is surprising that Real Estate has strayed away from full-blown jam songs, given their tendencies to let their guitars drift along, but the jam structure works to great effect here as Courtney's jangly rhythm contrasts against the distorted fuzz of Lynch's guitar.
In Mind is by no means a bad album, but while it may lack the emotional depth and musical layering of their past albums, it proves that Real Estate can still consistently create soothing, summery soundscapes.
Rating: 7.5/10