BHS staff share their stories for Breast Cancer Awareness Month
Two minutes – an entire 120 seconds. This is how much time it takes until another woman is diagnosed with breast cancer. Six of Bearden High School's breast cancer survivors recently opened up to share how those two minutes affected their lives forever.
Mrs. Julie Smalling
Mrs. Julie Smalling was 47 when she was diagnosed with breast cancer. Fortunately, Bearden provided her a compassionate support network, by having Bearden chemistry teachers help teach her classes while she was absent during her treatment.
"The teachers here took over my classes," Mrs. Smalling said. "Several of them worked four periods a day."
Mrs. Smalling faced her treatment headstrong. The doctors broke a total of three ribs while performing endless scans that sometimes did not deliver good news. That was difficult for her, but Mrs. Smalling persevered despite the challenges.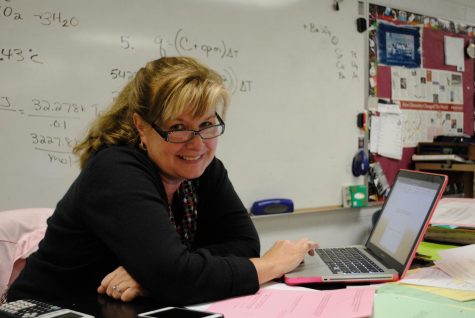 "The reconstruction was long and painful," Mrs. Smalling said. "I didn't let an obstacle bother me – I was so determined."
A meaningful lesson Mrs. Smalling has learned is the importance of exercising regularly as well as eating healthy. Cancer taught her a completely new lifestyle – it became part of her everyday routine to keep her body as healthy as possible.
"I have become aware of healthy eating and you are what you eat," Mrs. Smalling said. "I would go to the grocery store and it would take me hours to read through and try to not eat sugar."
Mrs. Smalling had 7, 9, and 11-year-old sons as well as a daughter in 12th grade to think about while battling her cancer, but not fighting was no option; it was imperative that she be there for her children.  
"I had three little boys and my daughter was a senior in high school, so that was really really hard," said Mrs. Smalling. "I couldn't leave them."
Mrs. Julie Smalling has been living cancer free for eight years now.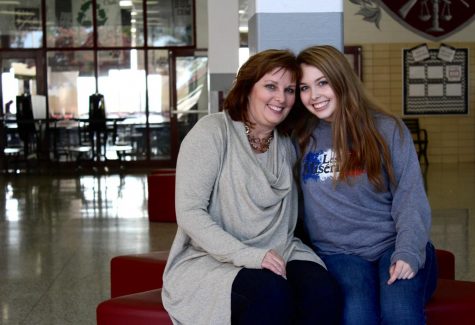 Mrs. Lisa Burns
Mrs. Lisa Burns was 48 when she was diagnosed with Stage III Breast Cancer. It was hard for her to break the news to her family – especially her daughter Megan Burns, who was 13 at the time and is now a Bearden senior.
Nearly three months before she was diagnosed, her family had a house fire, which resulted with her living in an apartment during the time she was diagnosed.  
Megan Burns still remembers how she felt when her mom was going through treatment.  
"She wasn't going to have to do chemotherapy (initially), but unfortunately she had to," said Burns. "That was when it really hit me because I didn't know what was going to happen.
"There was an 80% chance she was going to live."
Although Mrs. Burns was dealing with great amounts of stress, she persisted on and made the best of the situation by continuing to go to work. Here, she found an amazing support system.
"The support staff here – every day I'd go take my little naps," Mrs. Burns said. "It was when Kelly Buckley was the nurse here.
"She would check on me and just take care of me, but I never missed a day. There are so many other breast survivors here in our building that were very supportive toward me."
Three chemo treatments later, Megan went with her mom to get her haircut and buy wigs before another chemo session.
"We got to pick out all these wigs," Burns said. "She got some fun wigs.
"She [Mrs. Burns] went short and she went long. I think that was something she enjoyed."
Although Mrs. Burns's spirit radiated throughout everyone around her, she did not want to be seen, but she continued to keep the bravest face for her family.
"She'd always have a hat on or a wig," Megan said. "My mom wanted to keep my life as normal as possible."
However, Megan felt the opposite. She did not feel like her mom should hide.  
"She [Megan] was never embarrassed of me which was neat," Mrs. Burns said. "She was a big supporter."
Despite the hard times, Mrs. Burns maintained a brave face for her family. In turn, she received support and overwhelming encouragement.
"You learn to appreciate the little things because they are the big things," Mrs. Burns said. "You take every day one day at a time."
"It has taught me that you are stronger than you think you are. Just how special you are and how many friends you have that you really didn't know you had."
Mrs. Lisa Burns has been living cancer free for four years now.
Mrs. Loretta Peake
Mrs. Loretta Peake was 38 years old when she was diagnosed with breast cancer. She anticipated her diagnosis long beforehand and was not shocked the slightest bit by the news. Breast cancer is deep rooted within Mrs. Peake's family history with her mother, aunts, and sisters all having breast cancer. At the time of her diagnosis, Mrs. Peake had three children at home and was a teacher at Bearden. Peake was focused on the end goal of defeating cancer.   
"This is what I've got, this is what I need to do, and let's get it done because I want to live," she said.
After she was diagnosed with breast cancer, Mrs. Peake had her first surgery within a week which would then be followed by six months of chemotherapy. Amid her treatment, Mrs. Peake had a network of encouraging and supportive people to count on.
She depended on her faith to get her through the hardships as well as her group from church that brought her food three times a week. The principal at Bearden at the time was Dr. Scott who offered her a flexible schedule that had her plan period placed in middle of the day so she could rest.
In addition, her best friend was diagnosed a year prior to her and offered overwhelming support on top of her mom and sisters. Mrs. Peake formed a group of both breast cancer survivors and those undergoing treatment that encouraged and lifted each other. Although it was an instrumental event in her life, she does not let it define her.  
"I think that was, as my sisters often say, just one year or so of our life – it is certainly not something we dwell on," Mrs. Peake said. "We are thankful that we survived because my best friend did not.
"But it is a journey, and we have been able to help other people through the journey and talk with them."
Since her treatment, Mrs. Peake has been impassioned in helping others who are going through cancer treatment. She checks on Bearden faculty who may still battling cancer or are in remission. She offers words of encouragement and ardently believes everyone can make it through any challenges they may be facing.
"I can do this. This too shall pass," she said of the sentiment she offers. "Life is always full of challenges, some bigger and harder than others, and it's also full of joys. So you just have to kind of look at those challenges as what you're going to learn from that and use that to help other people."
Mrs. Loretta Peake has been living cancer free for 22 years now.
Mrs. Roberta Davis
Mrs. Roberta Davis was 48 when she was diagnosed with stage 3 breast cancer. "Terrified" is the word she recalled when first looking back to her diagnosis. She was battling a progressive stage of breast cancer. Davis's treatment took over the course of one year. It consisted of six months of chemotherapy and then surgery. After surgery, Davis did radiation for several months.
"I was very lucky," Mrs. Davis said. "I'm very healthy. I'm very strong. I was able to work just almost every day."
Davis was in her second year at Bearden when she was diagnosed with breast cancer. She was a teaching assistant for special education alongside Ms. Jane Coggins. Davis would miss a few school days during her chemotherapy but would then bounce back quickly, working in the classroom when she wasn't visiting the doctor. She didn't have much time to take off and wanted to keep her life normal for her children.
"That was very empowering to be able to keep your life as normal," she said. "I had two children – I had a junior here at Bearden, and I had a seventh grader at West Valley at the time. It was important to keep our life as normal as possible."
Now her children are ages 23 and 27. However, at the time of Davis's battle with cancer, they tried to a continue a normal life of swimming and soccer practice. Besides her friends and family, Davis's support group included former Bearden staff member Mrs. Linda Radcliffe, another breast cancer survivor.
"(Mrs. Radcliffe) was incredible," she said. "(My friends) really kept things moving in my life and kept things positive."
After beating breast cancer, Mrs. Davis's life has changed in the sense that she does not take anything for granted. She also tries to be a positive person for others because she has recognized that there are a lot of people who are struggling and need encouragement.
"You really never know anyone's story until they share it," she said. "Sometimes they're coming through a lot, and I'm very aware of that and try to be very keenly attune to try to be the positive person when they come in contact with me."
Mrs. Roberta Davis has been living cancer free for 10 years now.
Mrs. Julie Rowe
Mrs. Julie Rowe was 36 years old when she was diagnosed with triple negative breast cancer.  She was officially diagnosed on Ash Wednesday which is a monumental day for her in light of her faith. For Mrs. Rowe, faith and prayer was a big thing that helped her in starting her course of treatment.     
"I was diagnosed then, but then I was like but I'm going to be better by Easter," she said. "I just don't know why. One moment I'm feeling like absolute terror and the next moment I was like I'll be find by Easter and sure enough I was."
Mrs. Rowe was battling a aggressive form of breast cancer – on a scale 100 she was given a 97 based on aggressiveness. She was relieved to start her treatment with chemotherapy because she was hesitant about surgery.
She had six treatments of chemotherapy that started on March 25 and lasted until a few days after the fourth of July. To her doctor's surprise, she had a really good response to the chemotherapy only getting sick once. By May, her cancer had shrunk 90 percent.
During her treatment, Mrs. Rowe was teaching German 1, German 2, and AP German classes. She found a support system through both her students who would sanitize her desks in order to expose her to fewer germs, and she found support in the teachers at Bearden. Mrs. Peake and Mrs. Davis would check in on her periodically and make sure everything was okay.
Mrs. Rowe's treatment also involved 36 treatments of radiation. She didn't have any negative responses to the radiation which again was a surprise to the doctors. After her treatments of chemotherapy and radiation, she finally faced her lumpectomy surgery head on. With a series of treatments, she fought cancer both physically and mentally.
"I think the hardest part is the mental, dealing with it mentally," she said. "Because now every time I go to the doctor I'm like okay are they going to find something. I definitely have white-coat anxiety when I go to the doctor."
Dealing with the mental challenges was made easier by the haven she found in her faith and in her music. It was during treatment she found the song "Dive" by a band called Disciple. The lyrics go into detail of the passage Isaiah 31 in the Bible.
"I was having a freak out the second treatment, and I just turned on the song and I was like, 'Wow, I needed that,'" she said. "I needed to hear that it was going to be okay basically."
During treatment, her daughter was 10 and her son was 4. Behind her overwhelming support from others, she also received affirmation from them on how she was going to be okay. From her experience, Rowe has learned to pay more attention to what she eats and has learned a lot more about herself regarding her faith and trusting others.
Mrs. Julie Rowe has been living cancer free for three years now.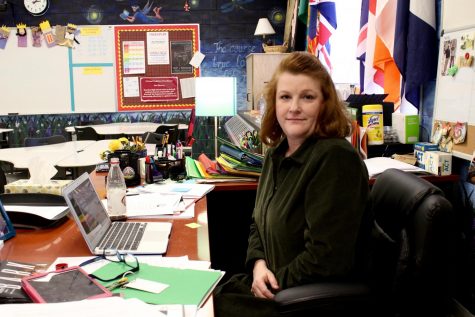 Mrs. Connie Francis
Former Bearden teacher Mrs. Connie Francis was 39 years old when she was diagnosed with Stage II Breast Cancer. First came the initial shock when she first discovered her diagnosis, but she picked up her feet and opted to have as much surgery as she could. After about five surgeries in six months, she took oral chemo – going against her doctor's orders by not doing radiation – which she felt would be a risk considering her asthma.  
"It took about 15 months to get through all the stuff that I had to go through," said Mrs. Francis, who was an English teacher at Bearden for more than 10 years and is now at Oakland High School in Murfreesboro.
Rest was necessary for the healing process, but Mrs. Francis was resistant to taking a break. She became really involved in her job; she preferred teaching English and the company of her students rather than staying at home.
"It was easier for me to be here [at Bearden] then stay home, because as long as I could keep my mind active I wasn't necessarily thinking about the cancer," Mrs. Francis said. "I came back very very quickly, somewhat against my doctor's suggestions, but it was just better for me mentally to be here with the kids because it made my day go a whole lot better."
After her cancer went into remission, Mrs. Francis broadened her horizons of the world through travel. She started a tradition of taking a group of Bearden students to Europe every year during the summer.  
"Since then, I've been to 32 countries," Mrs. Francis said. "I was afraid that I might run out of time, and I wouldn't have seen the things that I wanted to see."
Mrs. Francis has adapted, yet again, to her new lifestyle. Her focus is solely her family and students. She has traveled with her daughters all over the world, and makes sure she spends plenty of time helping students and teaching them to write to their best abilities.
"It changed my life for absolutely the better because I reprioritized the things that I was doing and I started doing a lot more things that I wanted to do rather than things I felt like I had to do," Mrs. Francis said. "It was a real wakeup call that one day I won't be here and I want to try to help as many people as I can while I am here."
Mrs. Francis has been living cancer free for 11 years now.