Longtime friendship makes National Merit even sweeter for Chan, Gardner, McIntyre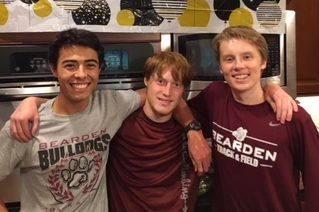 Bearden seniors Tyler Chan, Austin Gardner, and James McIntyre have been named National Merit Semifinalists, putting them in the top one percentile of the Class of 2018 who took the PSAT October of 2016.
However, they share more than that elite academic status: They have been friends for more than seven years and are competitive with each other – whether it pertains to their academics or a game of chess.
When the trio had dual enrollment psychology together, they often planned on working on homework on their off days, but those plans rarely materialized.
"We ended up playing chess and literally screaming at each other, and we get really competitive sometimes," Chan said. "Austin is too darn good at it. I started reading up, and I beat James once. And then James started getting a lot better, and he started like beating me a lot."
On top of being named semifinalist, Chan contains an impressive resume of several clubs and organizations that he is involved in at Bearden. These include STEM Scholars, Key Club, National Honor Society, debate club, and the track team. STEM Scholars has made a lasting impact on Chan because of the thorough yet exciting work he gets to do on plant genetics.
It requires hours of measuring the small and delicate leaves and drawing conclusions from each finding. Chan plans to take with him the knowledge he learned from STEM Scholars to college where he will major in biochemical engineering or biochemistry.  
In regard to his college plans, Chan's first choice is Princeton due to its distinguished chemistry program; however, he is also applying to Stanford, Harvard, Case Western, UTK, and University of Alabama in Huntsville.
Gardner has always been naturally inclined to the subjects of science and math. With the PSAT containing both of these subjects in length, his high score was no surprise. Gardner plans on embracing these subjects with a predicted major of engineering. His dream job is in no way ordinary, but Gardner has proved with his intellect that he does not fall in the category of ordinary.  
"My dream job would be working on putting someone on Mars and then colonizing them," he said. "I want to work with space. I'd think that'd be awesome."
Gardner is a part of many clubs at Bearden including STEM Scholars, debate club, and robotics club. As a part of STEM Scholars, Gardner is preparing for his approaching future by working on the Mars Rover Challenge. After he graduates, Gardner plans on attending one of the following schools which are all notable for their engineering programs – Stanford, MIT, Virginia Tech, or North Carolina State.
For McIntyre, being named a semi-finalist has opened many attractive opportunities that he plans on exploring in light of college approaching. McIntyre participates in a wide range of activities including Bearden's cross country and track teams.
"We had one meet my junior year where there was a spirit award for the teams and our team won because we were all dressed up and had face paint on," McIntyre said. "It was really fun."
From cross country and track, McIntyre has found a band of friends as well as memorable experiences. In addition to cross country and track, McIntyre is the captain of the debate team and plays the cello in Bearden's orchestra. McIntyre is applying to Duke, Northwestern, and Tennessee where he plans on majoring in either economics or political science.
As debate team sponsor, Mrs. Nescha Lee has seen Chan, Gardner, and McIntyre grow over the past few years. Mrs. Lee has observed the three boys in their element – examining their true and authentic selves.
"Tyler is an old soul, not just because he's mature for his age," Mrs. Lee said. "He's a thinker, and he is always interested in intellectual conversation. I had Tyler in Honors English II as well, and he was a serious student, always eager to improve.
"Austin is intelligent and very confident," Mrs. Lee continued. "He keeps a pretty full schedule, so we miss him sometimes at meetings and tournaments. However, when he competes, it is obvious that debate comes very naturally to him.
"James seems quiet and shy at first, but he's not. He just actually listens to people when they talk and is deliberate and thoughtful about the things he says. He is always respectful and sincere, but he can be really funny, too."