Two students take home wins in Scholastic Key competition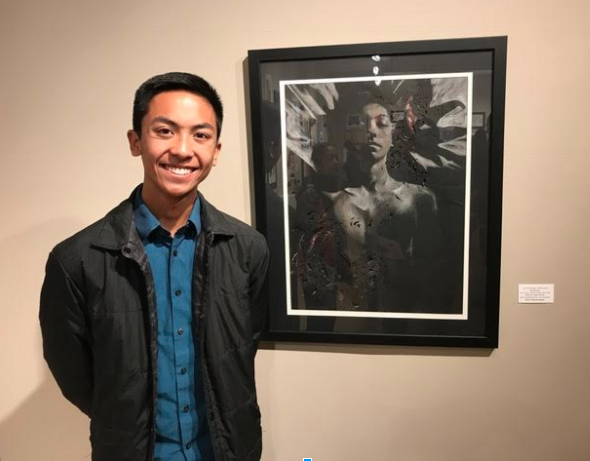 The Scholastic Art and Writing Awards competition provides students with talents in various artistic fields opportunities to receive recognition for their skills.
Two students to have recently taken part in this competition are Bearden seniors Justin Edaugal and Bridget Nagdeman. Edaugal entered an art portfolio, painting, drawing, and two mixed media pieces and took home three gold keys, a silver key, and an honorable mention. The gold key winners – his drawing and two mixed media pieces – will move on to national judging in New York.
Nagdeman entered a writing piece and took home a silver key in the comedic writing competition.
"Keys are basically regional awards given to the top writing or art across certain regions of the country," Edaugal said.
When presented with the opportunity to participate in the competition, both Edaugal and Nagdeman jumped at the chance and despite the mid-competition nerves, their work earned some well deserved awards.
"Leading up to the announcements, I was really nervous just because the art I submitted was really personal to me and I wanted people to recognize that," Edaugal said. "But after hearing I received those awards, I was extremely excited and thankful to know my art reached out to people."
The opportunity to have their work showcased in a competition like this has and will continue to open up opportunities for the students; and while not planning to go to school specifically for art, both are definitely planning to find a way to take as many art classes in the collegiate level as possible.
"I've always loved comedy television shows like Saturday Night Live," Nagdeman said. "Sketch writing and making up stories, like we do in improv club, has always been something I love to do.
"In college, I'm planning on learning more about television production, and hopefully writing will follow. The dream is to write for a comedic tv show."
The arts and writing are something Edaugal and Nagdeman are both passionate about and participating in the Scholastic competition has allowed them to showcase their work to the community and encourage others to follow suit.
"I would tell other students just starting to get into art to keep going with their art and don't stop creating," Edaugal said. "It's a process. No one is going to make a masterpiece on the first try."
For more information about getting involved in the Scholastic Art and Writing Awards visit the website here.