Bearden's orchestra going electric with Haydn Vitera for its first ever rock concert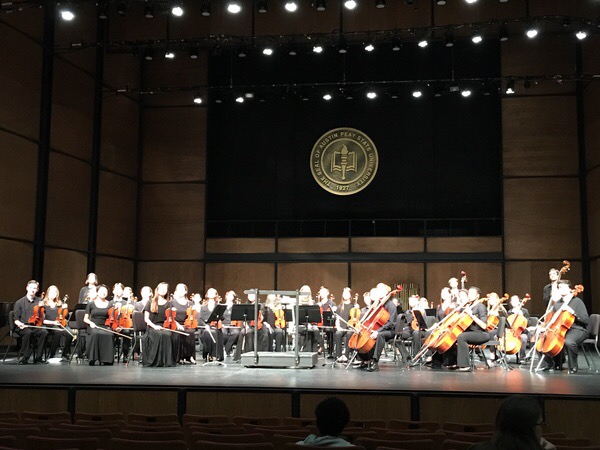 Bearden's orchestra will take on an exciting, rock-and-roll sound on Friday with their first-ever "Electrify Your Strings" concert.
"Electrify Your Strings" is a music education program put on by Mark Wood Violins that brings internationally-known musician Haydn Vitera to schools to work with orchestra teachers and teach students how to play electric string instruments.
Vitera will come to the school during the day on Friday to lead the Bearden and West Valley Middle School 8th grade orchestra in a workshop with instruments like an electric cello, violin, viola, and bass guitar.
After the workshop, the students will perform in Bearden's first electric orchestra concert that night.
This is the first time most orchestra students will play electronic instruments, and they will also have to adjust to the new sound that is vastly different from their usual classical tones.
"The students have really stretched themselves for learning this because it's all rock music," Bearden orchestra director Mrs. Cynthia Wright said.
The Bearden and West Valley orchestras will combine to play three rock pieces with Vitera. The selections consist of a wide variety of music including originals by Vitera and Wood and will also feature songs from prominent rock bands like Coldplay and OneRepublic.
The orchestra also normally consists of only acoustic instruments, but with the added electric instruments, this concert will mark one of the first times a sound technician comes to set up microphones for the orchestra.
Mrs. Wright has been looking forward to this for a long time, and has put leftover funds from last year's fundraisers and the most recent ones from their mattress fundraiser toward covering the cost. Ticket sales will also contribute to the price of this exceptional program.
The concert is open to anyone in the community, and tickets will be only $5. Not only will Bearden and West Valley students perform, but Vitera will also play some of his most famous works and sign autographs after the show. Any money leftover from ticket sales will be put toward the costs of orchestra's regional festival competition in the spring.
"It's a really unique experience I think all students would really enjoy," Mrs. Wright said. "All the music is upbeat and really fast."
Tickets for "Electrify Your Strings" will be sold during lunch on Wednesday and Thursday, but they can also be purchased at the door.