TNReady state EOC testing will adjust Bearden bell schedule again Dec. 7 and 11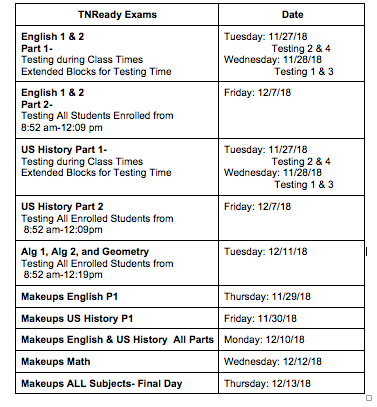 State mandated end-of-course tests started this week, and with them, the bell schedule changed Tuesday and Wednesday. More changes will follow on select days in December.
Each year, the testing schedule goes through multiple checkpoints of approval before being presented to faculty and students. It is a collaborative effort meant to minimize disruptions as much as possible and prevent unnecessarily lost class time.
"We plan our schedule to maximize instructional time for all students, while still meeting the requirements of the state," said Bearden assistant principal Mrs. Cassandra Dowd, who is one of the administrators in charge of designing the schedule.
"The tests have specific time allotments; therefore, we have to create a schedule that allows students the appropriate time."
State testing will only disrupt the bell schedule on four days, which is a major decrease from previous years. Dec. 7 and Dec. 11 are the only two days with half day blocks where one entire class period is cut.
"This is much less disruptive than previous years because the state has shortened some of the existing tests and has cut several tests entirely including English III and Chemistry," Mrs. Dowd said.
A link to the schedule can be found on the Bearden home website and dates were included in the Wednesday Weekly on Nov. 14 for parents. Additionally, an automated call went out to all parents via School Messenger reminding them that testing is starting. For more information about specific tests and times, refer to the attached image at the top of the article.