K Brew opens new branch in West Knoxville across from West Town Mall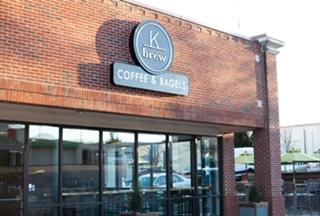 With its hammocks and rustic wooden tabletops, K Brew's new West Knoxville location is a cozy retreat away from the hustle-and-bustle along Kingston Pike.
The local coffee shop, nestled beside Men's Warehouse and West Marine across from West Town Mall, celebrated the grand opening of its second location on March 23.
K Brew offers a varied menu of drinks specially curated by its baristas as well as its famous New York-style bagels. The family-owned company sets itself apart from its competitors by offering a smaller menu of high-quality items. It also prides itself on genuine and exceptional customer service.
Brothers Michael and Pierce LaMacchia are the co-owners of K Brew. Their mission is to be "Knoxville's coffee house" and create a flourishing community centered around a love for coffee.
"We absolutely love our customers, and have built a real community at our Broadway Street location over the past several years," Michael said. "We look forward to building a similar one at our new location in West Knoxville."
Additionally, the coffee shop offers "coffee pro classes" at their Broadway location, with hopes to expand the classes to the West Knoxville location. These classes include "coffee cupping," where students learn how to taste coffee like industry professionals, as well as classes on brewing coffee at home.
Plans are already underway to open a third location in downtown Knoxville this fall. For more information, visit their website at knoxvillebrew.com and follow their Instagram page @knoxvillebrew.