Branson goes from no experience to one of area's best golfers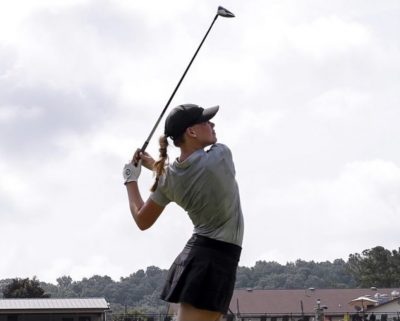 Growth and perseverance are important qualities of any good athlete, no matter the sport. Bearden golf's Sydney Branson is a great example of these qualities.
Branson has been golfing on the team since her freshman year and has improved her game with each passing season, most recently culminating in her win in the 5 Star Preps tournament. 
"To me, it was a breakthrough," Branson said. "It proved that all the hard work I was putting in over the past three years was finally paying off."
What makes this even more remarkable is that Branson had never played golf prior to her freshman year. Her growth as a player has impressed many people, especially Bearden golf coach Tyler Lane. 
"I've talked with a lot of coaches in the area, and every one of them raves about Sydney showing the most improvement of any high school golfer they've seen," Coach Lane said. "To go from shooting 130s as a freshman, to winning tournaments and shooting scores in 60s and low 70s, it's pretty incredible and really a testament to her work ethic."
Even with all that improvement, there are still obstacles that athletes have to face all the time. Overcoming those obstacles further demonstrates an athlete's growth and persistence. 
"My mental game is and will be the biggest challenge for me," Branson said. "I have to keep myself in the zone when I play and not let one bad shot or hole control me."
The golf team's next match is against Farragut and Webb on Thursday at Gettysvue Country Club at 4:30 p.m.