Summer blockbuster popularity drives Bearden students back to theaters at pre-pandemic levels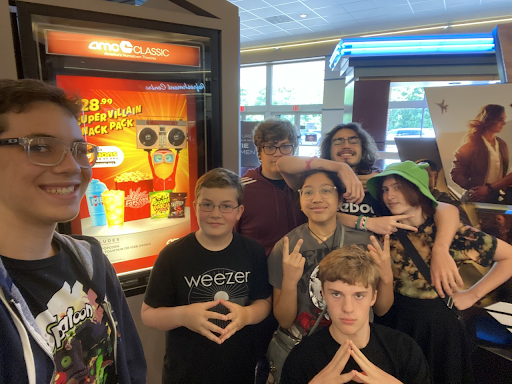 Most students can easily recall the times when they could visit a movie theater without the slightest worry about doing so during a global pandemic.
The constant popping from buttered popcorn machines. The anxious waiting in lines that trail out the entrance doors. The dimming of the lights signaling that it's finally time.
Those often celebrated moments became fewer for many, as Covid-19 led some production companies to opt to release films on streaming services earlier than they normally would have, cutting down on the number of regular theater-goers.
Movie theaters experienced a significant drop in customer attendance while online streaming platforms such as Netflix, Hulu, and Disney+ skyrocketed in viewership and new subscriptions during the height of Covid-19 restrictions on public gatherings. 
Now as the world is learning how to live with Covid-19, the public is returning with more frequency to movie theaters. Some of the students at Bearden reflect on their experiences viewing feature films in theaters rather than from the comfort of their homes through streaming services. 
"It's better to watch movies in theaters than it is to watch them on a small screen at home," senior Anders Lind said. "It's just an overall better experience in theaters even if you don't get snacks or anything." 
Social distancing, mask mandates, and other health restrictions posed numerous problems for movie theaters commonly known for their sharable finger foods and rows of full seats. Yet many made the best of the unexpected situation and showed continuous support for theaters in the Knoxville area by attending in small groups and making use of reserved seating. 
"It felt like something was going back to normal and that we could still have fun while practicing safe measures," junior Lauren Hill said. "I liked being surrounded by a group of people who are also enjoying it [Jurassic World: Dominion] and laughing at the same time." 
Teens not only from Bearden but across the country saw the numbers of theater visits go up first with Spider-Man: No Way Home (December 2021), then The Batman (March), but the trend truly returned to its old sense of normalcy this summer with the popularity of Elvis, Minions: The Rise of Gru, Jurassic World: Dominion, and Top Gun: Maverick, among others.
"I couldn't go to a theater last summer (2021) because of Covid," senior Jayden Johnson said, "but the Minions movie definitely did the best job at bringing people back to theaters."
Added junior Abigail Cade: "Top Gun was so much better in the theaters because it created a suspenseful atmosphere while sitting in a dark room with the sounds loud and surrounding you."